Picture this: It's a sunny summer's evening. The sun is going down over the city as you gaze upon it, a gentle breeze drifting through your hair in a way that makes you feel like a model on the set of a perfume photoshoot. Who needs Paris? You've found the best roof terrace in Bristol, which is essentially the same thing, minus the rude waiters. How do you achieve this reality? Keep reading.
Bristol has plenty of options for enjoying the sun on a roof terrace. Some have stunning views and some are secrets, only discoverable by the most avid Bristolian adventurers. Luckily, we've done the discovering for you, so here's our picks for the best roof terraces the city has to offer.
The crown jewel of Bristol pubs, the White Lion is a huge terrace sitting right on the edge of Clifton. Its location not only makes it easy to get to, but provides it with its biggest asset- the view. If you've ever wanted to feel like you're in a fantasy land, sitting with a local cider next to the spectacular Avon Gorge, topped with a bridge that stays up by magic (engineering), is the way to do it. It is a completely unique experience within the city, even in the South West. Inside, next to the terrace, is a restaurant serving a variety of delicious high end pub food including curries, salads, pizzas, and more. After you've finished taking in the view, taken a sufficient amount of photos to post online, and enjoyed dinner, you can take a stroll across the bridge itself, ticking something else off your Bristol Bucket list.
Swinging right to the other side of the pendulum of roof terraces, Barrel House is a lively pub which is popular with locals, which features a cute, secluded roof terrace. Although there are no Lord of the Rings-esque views, the roof terrace here feels special in its own way. Your very own secret garden, you'll feel special even knowing this place exists. As well as being a lot cheaper than the former entry, the pub itself is worth visiting. It has live music or comedy events almost every night, and homemade pizza for when you get hungry. It even hosts a weekly Sunday roast- a British staple. For a laid back local terrace, this is the place to go.
Right image below from The White Lion.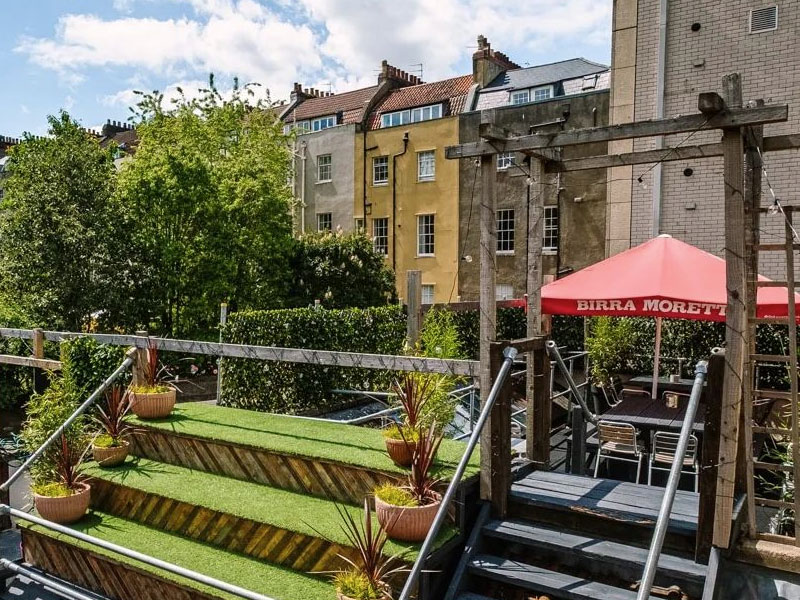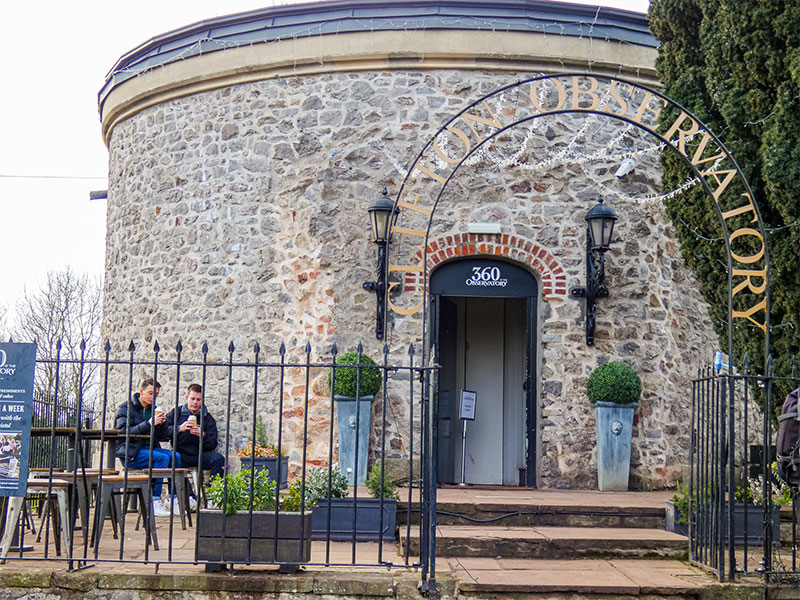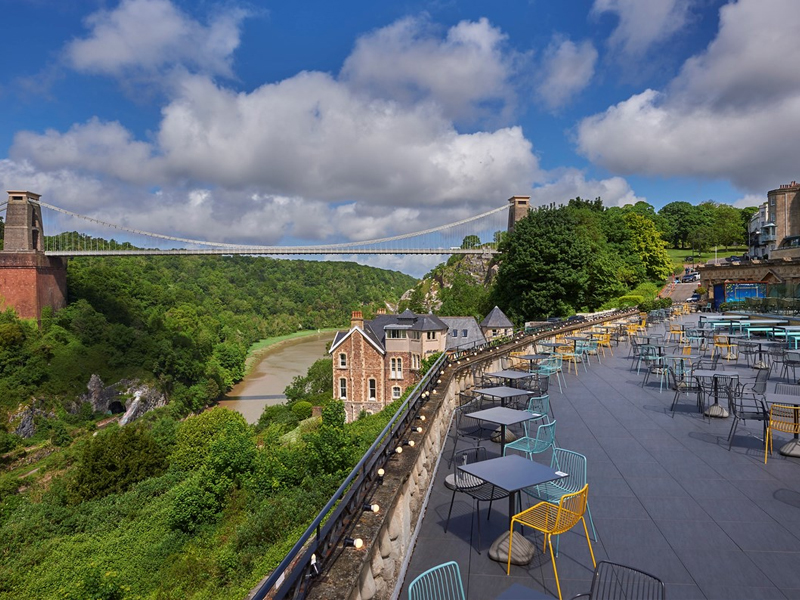 Why not treat yourself to some fine dining this summer? You've earned it by sitting through every meeting that you were asked to without complaint and taking the dog out for daily walks without forgetting a single one. The Square Club is the perfect place to reward yourself for your hard work, with their talented chefs creating unforgettable dishes and tasting menus, the restaurant's secret garden is simply a silver lining. This outdoor terrace feels like it's in a different world, far away from all of your problems. Enjoy daytime in the sun, or the enchanting twilight hours where the sun begins to go down and the strings of lights come on to illuminate a warm summer's evening.
The most historically significant entry onto this list, this former windmill outdates the bridge itself. Over 250 years old, it is arguably Bristol's oldest landmark. Its history is rich, serving as an air raid shelter in the second world war, a real observatory in the nineteenth century, and now existing as a Grade II listed building hosting tours down Bristol's natural caves. The terrace may be small, but it boasts unrivalled panoramic views of the gorge, Clifton, and beyond. It is open every day from 10am-5pm and is perfect for enjoying the sun with a fresh pastry, or a drink from its bar. To top it all off, the terrace is dog friendly!
Image below: The Square Secret Garden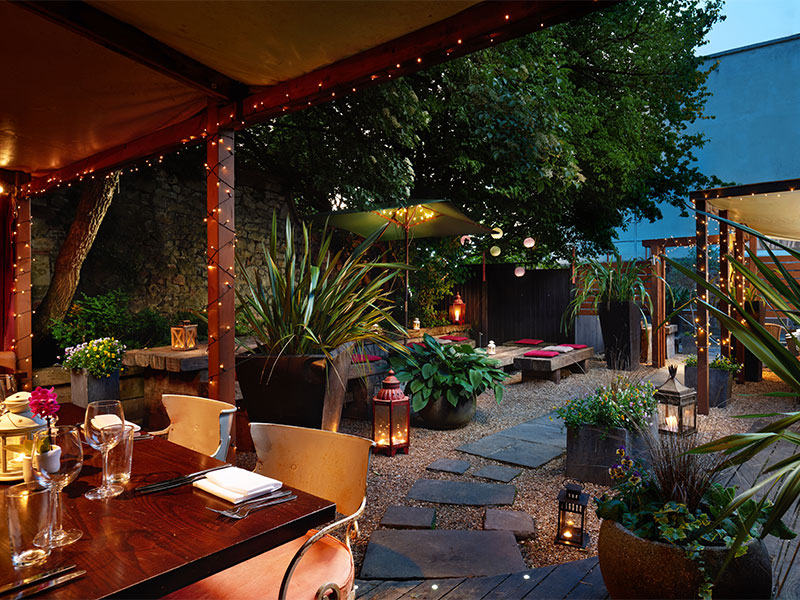 Racks is a terrace that can be enjoyed by all. If you're not a drinker you can have a great meal at a great price, taking advantage of their £6 lunch deal, and for those of you after something a bit stronger their drinks selection is just as diverse and appetising. Their pergola-dorned terrace is a beautiful place to pass an afternoon, and with its location in the same building as our Clifton Hotel, it is in the perfect location for those staying in one of our residences. Racks has loads of great value deals throughout the week, and you can have a look ahead of time on their website to see what lies in store for your next visit.
In the centre of Clifton village, this local pub is cosy but upmarket, the best of both worlds. They offer an impressive assortment of drinks, starting with a total of fifteen cocktails, both classic favourites and their personal signatures. There's lots of good wine, and even a rotating craft beer residency, which changes daily and goes between fifteen different beers you might not have tried before. Their terrace is made up of three levels, another hidden gem. It is beautifully decorated with plants and fairy lights for when dusk arrives, creating a secluded paradise in the middle of Bristol. They also have a great bar menu if drinking isn't particularly your thing.
Looking for Bristol accommodation with a difference?
Treat yourself to a special stay in Bristol. Each of our luxury suites has its own floor of a beautifully restored Georgian townhouse. With your own mini kitchen, state-of-the-art projector and comfy furnishings, you won't want to leave!