Bristol is a city built for summer – lush pub gardens, al fresco eateries and more parks than you can shake a stick at. But how do Bristolians do summer? We've asked around and compiled some of our favourite things to do in Bristol when the temperature starts to rise.
Parklife
Bristol is home to some truly cracking parks – if you asked a group of Bristolians for their favourite, you'd likely get a bunch of different answers. We've picked the two big central (ish) ones here.
In Bishopston, St Andrews Park is a Bristol staple. With lots of shade, playparks, toilets, a paddling pool and a decent mobile café, it's perfect for a family day out. Thanks to its proximity to Gloucester Road, it's a viable alternative to the pub and it's not unusual for the park to be filled with people listening to music watching the sunset in the summer months.
(Photo This Bristol Brood)
The Downs are the big green lungs of the city, 800 acres of green space next to Clifton and Redland. With panoramic views of the Suspension Bridge and the Avon Gorge, an observatory, public toilets, football pitches, playparks and an ancient Roman road, it's easy to spend a whole day lounging on the Downs. Plus, it's a perfect place for a picnic – why not treat yourself to some snacks from Clifton's top delis? 
Hanging out on Bristol Harbourside
Bristol's iconic harbourside comes alive in the summer months. Not only are Bristolians spoiled for choice for quality eats at Wapping Wharf , but there are also some superb pubs along the water. Whether it's ales aboard the Grain Barge, pints watching the sailing from the steps of the Cottage or spritzes on the terrace of the Arnolfini, chilling with friends and a drink on a balmy summer evening is an absolute Bristol must-do.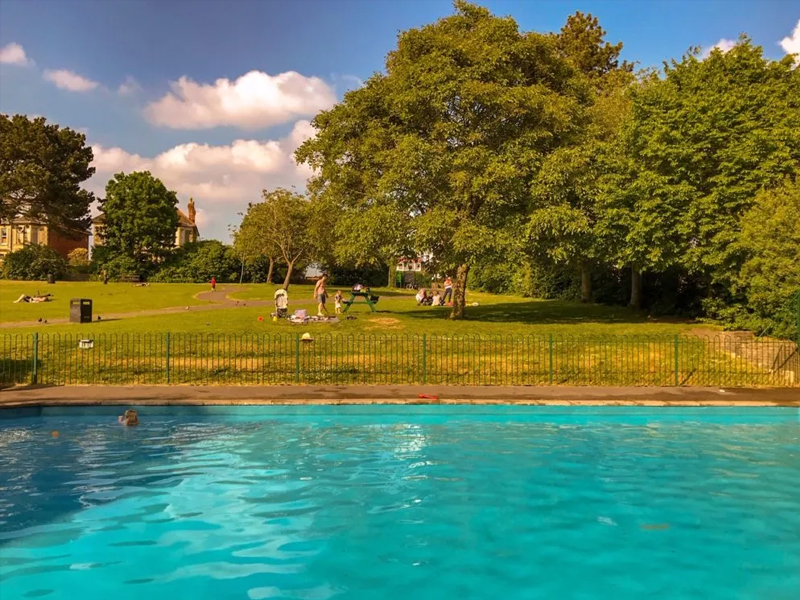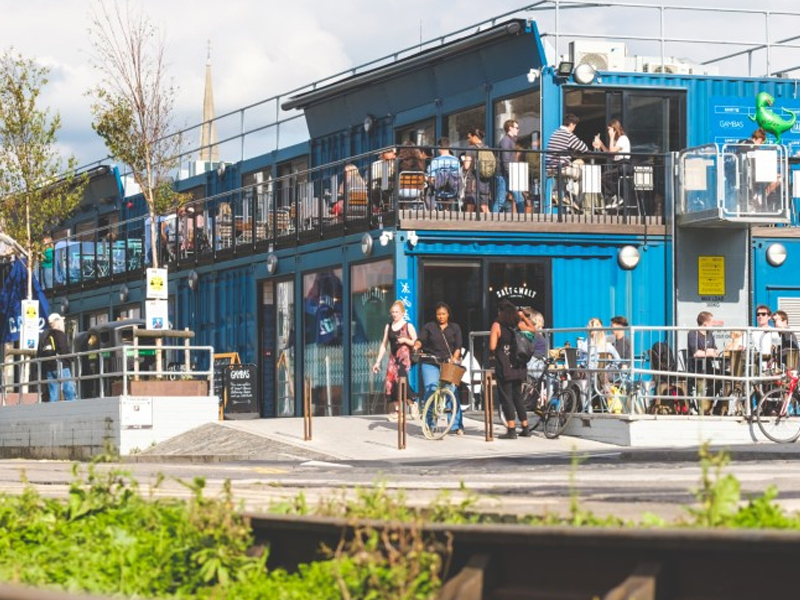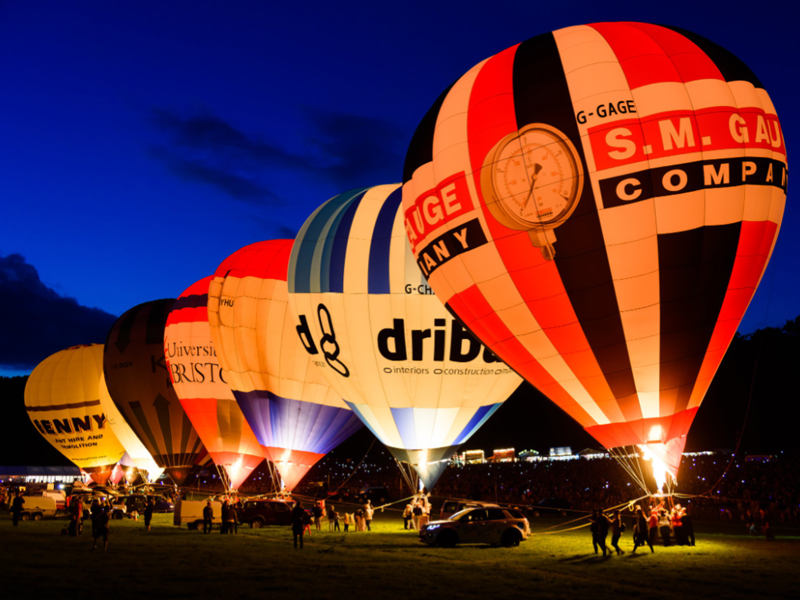 It's Festival Time!
Bristol is renowned for its volume of festivals – it's one of the best parts of a Bristol summer. The two big ones in Summer 2022 are the Bristol Harbour Festival and the International Balloon Fiesta
Harbour Festival
2022 marks 50 years of this celebration of Bristol Harbour and its anniversary bash promises to be a big one! From 15th – 17th July 2022, Bristol's harbourside will come alive with 120 hours of entertainment, across seven stages from spoken word to the latest Bristol musical talent, local dance performers, world class circus and on-water activity. And best of all – it's free! Visit the Harbour Festival website for more info.
International Balloon Fiesta
Founded in 1979, this annual celebration of hot-air balloons is one of the biggest events in the Bristol summer calendar. From 11th-14th August, the skies above Bristol will be filled with colourful balloons peacefully drifting across the city. There'll be mass ascents, sound-accompanied nightglows and food and drink stalls across Ashton Court. Find out more on the Balloon Fiesta website.
(Photo: Balloon Fiesta)
Bristol Festivals  
While those are the two major summer festivals, there's also still plenty going on earlier in the summer months. UpFest, Europe's largest street art festival takes place every May – and while you've missed it, it's still possible to take a tour round all the new pieces of artwork. Find out more on the Upfest site. July sees the return of Bristol Pride, three weeks of events like history talks, theatre shows, dog competitions – basically if you name it, it's probably happening! It all builds to Pride Day on 9th July – one of the UK's largest free pride events. There's a march through the city and a day and evening of free musical and entertainment events. To find out more, visit the Pride website.
Another big event in the Bristol July calendar is the annual St Paul's Carnival, a joyous celebration of Bristol's St Paul's community. It's a well-loved cultural event with its roots in the African Caribbean community of St Pauls. It's building to full carnival in 2023 and this year there are a whole host of interesting events and workshops celebrating the culture behind the carnival – for tickets and more information, visit the St Pauls Carnival website.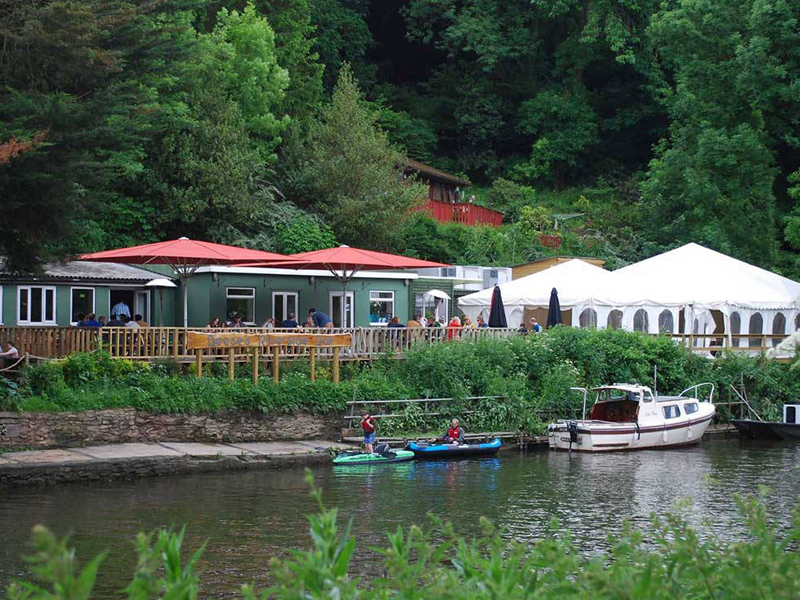 Water Way to have a good time
Bristol is a maritime city and its harbourside is its beating heart. What makes Bristol so special is how much we use our waterways – and there's nothing better on a warm summer afternoon than getting on the water.
Why not try paddleboarding with Bristol SUP in the floating harbour?  Or take a trip up the Avon under the Suspension Bridge with Bristol Packet? If you're peckish, there's always Beese's Tea Gardens a short boat trip away. For something less strenuous, there's always exploring the water using Bristol Ferry Boats or finding out more about the history of Bristol's most famous boat at the SS Great Britain museum.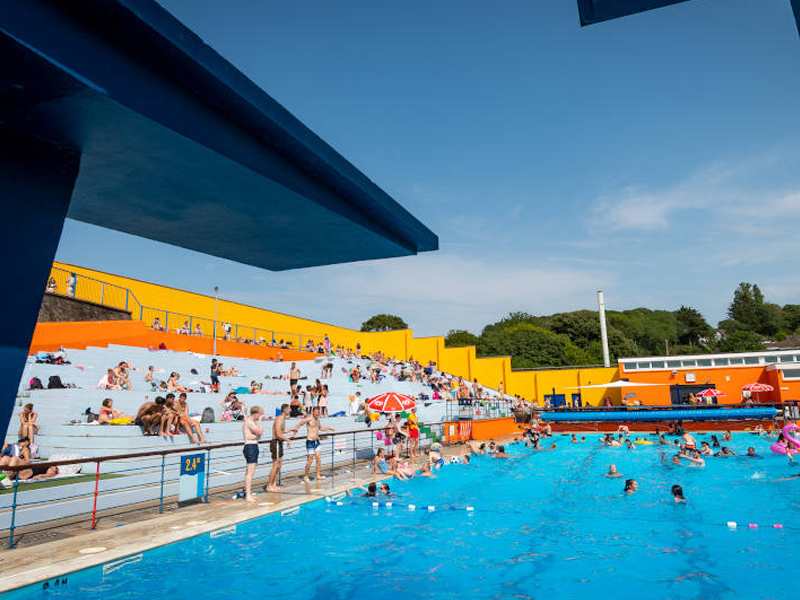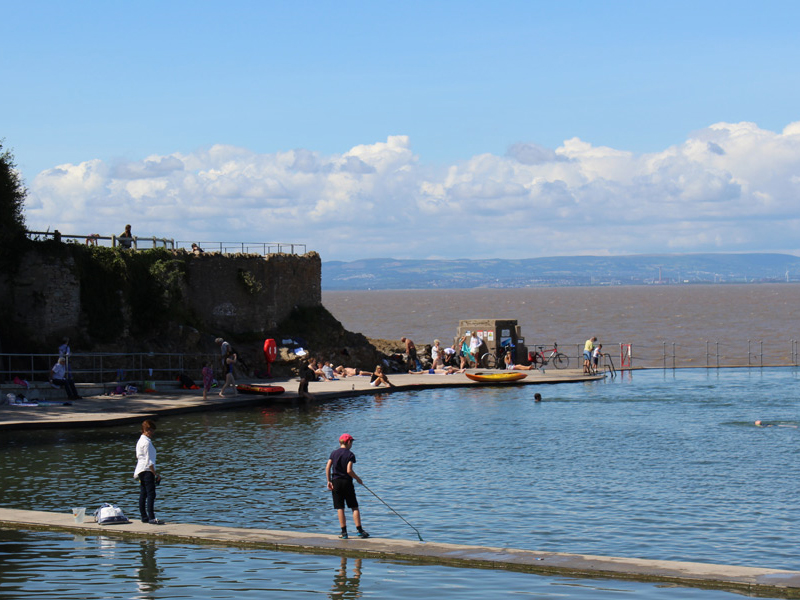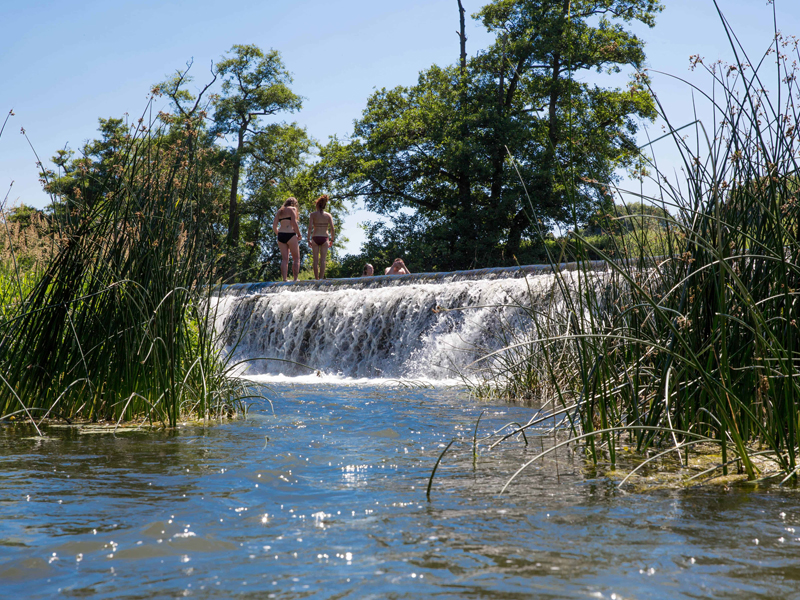 Day Trips for Dips
With the coast under ten miles away, there's loads of spots to retreat to when the city is too hot and nothing will do but a dip in the water.
Portishead marina is a lovely place to spend an afternoon – especially at its open air pool, a heated 33 metre community pool. 
(Photo: Portishead Open Air Pool)
Further down the Somerset coast is Clevedon with its beautiful Victorian pier, gorgeous sunsets across the Bristol channel and its Marine Lake.
(Photo: Clevedon Marine Lake)
Heading towards Bath, there's Warleigh Weir, a privately-owned part of the Avon river that's popular with wild swimmers. For more information, visit the Warleigh Weir Project site. 
(Photo: Warleigh Weir)
Even further from Bristol is Farleigh Hungerford, home to the world's oldest river swimming club. Its website has lots of information on how to get there and opening hours.
Visiting Bristol?
Book a room in one of our Suites and enjoy Bristol while staying in the heart of the city. Book direct for our best rate guarantee – and a free bottle of prosecco!. Follow us on Instagram or check out our Facebook page for more info!
Header image courtesy of Bristol Balloon Fiesta